Le Castellet

RENTAL PROPERTY IN A CHARMING MOUNTAIN-TOP VILLAGE IN PROVENCE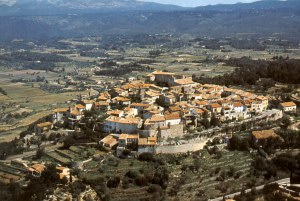 Welcome to Le Castellet -- A fortified medieval village in Provence. Our property, known as La Paillere, is located within the walls of the village. It is a simple home, a narrow three stories on the corner of rue Douce. It includes three bedrooms, two bathrooms, dining room, living room, kitchenette, and perhaps its nicest feature, a balcony with a view of the Mediteranean.
La Paillere's charm is in its simplicity. There is no phone, no TV. The village of Le Castellet is quaint, but comes alive in the summer when its many artisans open their shops to visitors. There are several cafes and small restaurants within the village.
Le Castellet is located in the state, or departement as the French say, of the Var, about a half-hour drive from the port city of Toulon. Within easy driving distance are Marseille, Aix-en-Provence, Avignon, St. Tropez, Cannes, Nice, Monaco and the Italian border.
COST:
The rent for La Paillere is $375/week, with a two-week minimum. Long-term rates (over two months) upon request.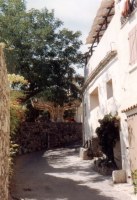 For more information please contact:
Edouard Bustin
57 Columbine Road
Milton MA 02186-1724
1-617-696-1412 (home)
1-617-353-7307 (work)
1-617-353-4975 (fax)